Description
Discreet Design
It's easy installation and subtle design makes it conveniently compatible with any car.
Voice Control
Focus on the road and control your dash camera handsfree
140° Wide-angle Lens
Monitor 3 lanes of traffic at once
Integrated Wi-Fi
Real-time playback through your phone
Stay Covered with a 140° Wide-angle Lens
In order to reduce blind spots, the YI Mini Dash Camera adopts a 140° wide angle all-glass lens that comfortably provides three lane coverage. The highly sensitive image sensor enables accurate and detailed recordings.
Full HD and Emergency Recording
The YI Mini Dash Camera features a high-end video processor that records at 30 frames per second in 1080p resolution. It's designed to capture fast-moving scenes, and provide detailed recordings of collisions, immediately.
The system also features G-Sensor technology that allows the camera to automatically save footage of the events leading up to a collision and immediately after.
Discreet Design and Easy Installation
When you mount the lightweight camera to your windshield using the 3M sticky mount, it becomes your discreet personal witness to any events unfolding on the road. It's easy installation and subtle design makes it conveniently compatible with any car, and easy to use for drivers of all ages.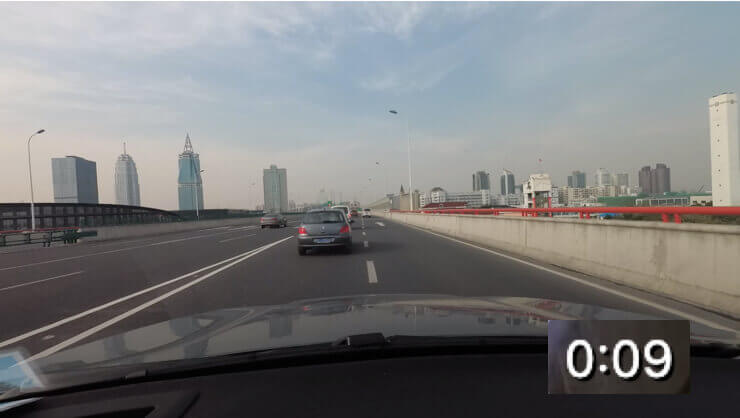 The Smartest Dash Camera On The Road
Keep you and your passengers protected with enhanced safety by harnessing the power of AI. YI Dash Camera ADAS (Advanced Driver Assistance System) Technology implements safeguards to minimize the potential for human error while driving. Captured video is continuously and automatically analyzed in real-time. If a risky vehicle behavior is detected, the dash camera sends a built-in alert in response to Fatigued Driver, Lane Departure, or Front Collision Detection. Our AI-based protection system has your back at every moment, just in case you blink.